Graanul Invest is a private company with headquarter based in Tallinn, Estonia. The company's main fields of activities include wood pellet production, development of heat and energy solutions, trading of solid biomass products and forestry.
Regardless of the fact that company is quite young, established in 2003, it has become the biggest wood pellet producer in Europe, one of the largest forestland owners in Estonia and one of the biggest independent renewable energy producers in the Baltic Sea region. Total annual production volume of the Graanul Invest group amounts to 2,300,000 tons of pellets. Main part of industrial pellet production is covered by long term contracts with major pellet users and distributors in Europe and all over the world.
Graanul Invest's target and motivation is simple – their mission is to be the most reliable wood pellet supplier in the world.
Graanul Invest group includes 11 large and modern pellet factories, two sales organisations, six combined heat and power plants (CHP plants) and three companies engaged in forest management and harvesting. The group of AS Graanul Invest employs over 600 persons.
During development of the company the existing factories have been modernised as well as build new factories to decrease the environmental impact of production and improve the general well-being of the environment.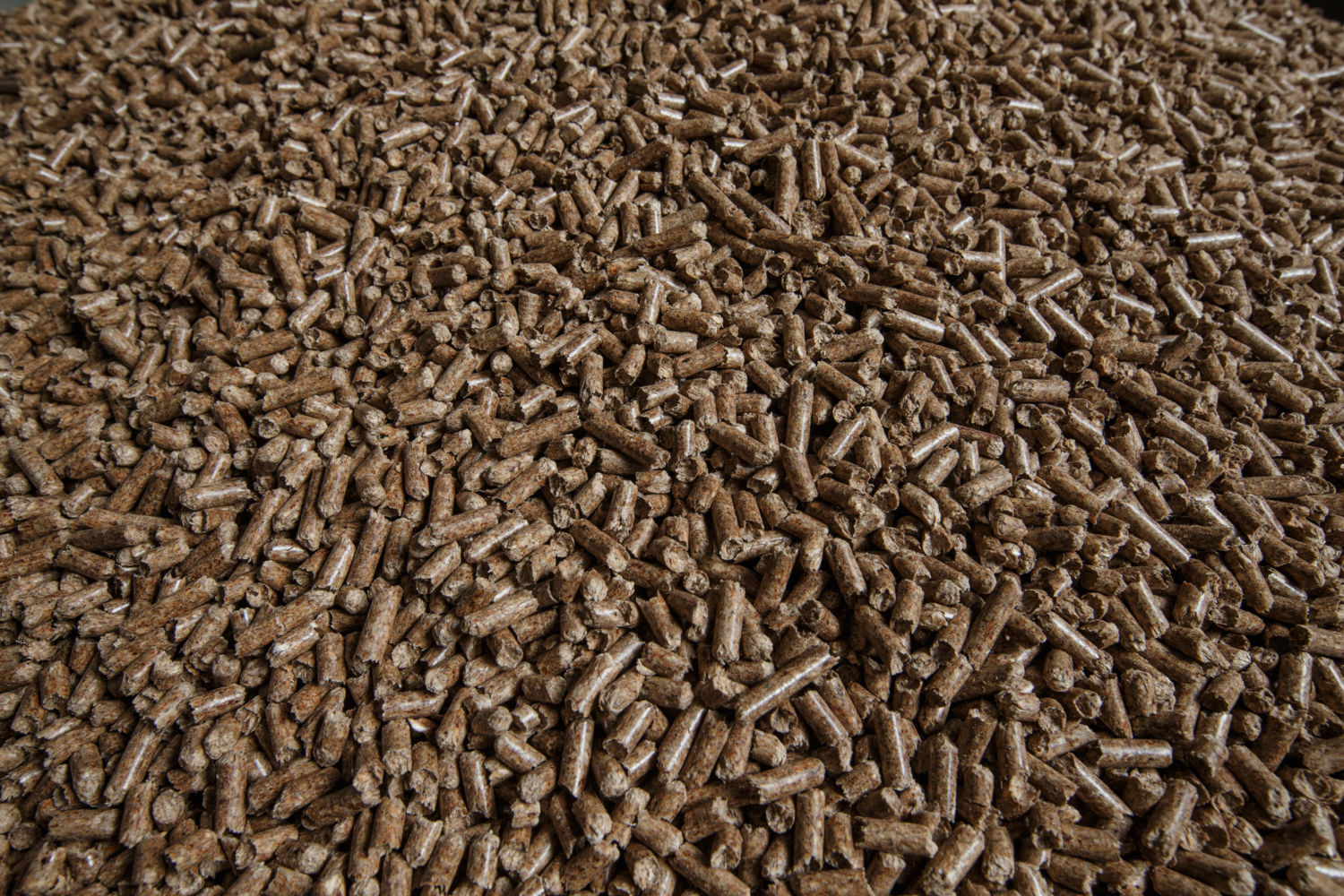 Photo of Graanul Invest's pellets – biofuel made from compressed biomass
Graanul Invest's target and motivation is simple - their mission is to be the most reliable wood pellet supplier in the world.
Started as of 1st of April 2017, Imavere plant uses special sensors to automatically determine the volume of bulk wood load material sent to plant. This is done by using different sensors, which create a 3d image of truck trailer and calculate the total volume of bulk wood load. The system then calculates the missing capacity of the trailer. The result includes a top view image that displays the differences in height. All of this is being done without a human intervention. Information processing takes 2 minutes and is then confirmed.
In July 2017, the system also started measuring truck trailers which deliver logs to the plant. The automatic volume measurement gate measures truck trailers logs pack height, width, and length to get accurate base information about the load. In addition to displacement measurements average diameter is being calculated and large cavities and errors in loading quality are being detected.
The solution provides overview of incoming and outgoing trucks loads and is essential to ensure fast measurement with minimal calculation errors and thus increase efficiency of Graanul Invest.
Example of scanned trucks 3d images can be seen here:
After the volume measurement and delivery of raw material, pellet manufacturing begins with debarking of logs. After the raw material has passed multiple crushing and grinding cycles, the resulting sawdust will be dried to eliminate excessive humidity. Dry and clean sawdust will reach processing, where it will be compressed to pellets using heat and pressure. Pellet manufacturing in Imavere plant takes 30 minutes for the raw material to be converted to pellets.
The pellets are produced in 6 or 8 mm diameter. In order to ensure the quality of the pellets Graanul Invest delivers, different tests are made in production. The main indicators observed in quality control are: ash content, heating value, humidity and specific gravity.
Wood pellet production in Graanul Invest Group is divided between industrial and premium pellets. Industrial and premium pellets main difference is their ash content (1,2% vs 0,5%) and heating value (4,8 MWh/ton vs 4,9 MWh/ton). The company's technology and wood supply allows them to produce around 50% of their pellets in premium quality. The raw material of their premium pellets is barkfree softwood sawdust and chips. The company also uses dry sawdust, shavings and other wood residues from timbering industry. In making industrial pellets they use the sawdust of soft wood and hard wood and along with firewood, energy wood and wood chips containing bark. Graanul Invest also grows its own raw material supply.
Majority of Graanul Invest's pellets are SBP compliant while also being either FSC/PEFC certified or controlled.
The goal of the company is to produce and supply nature-friendly and high-quality products to its customers and contribute to the preservation of the environment by providing renewable fuel to the market and reduction of waste from conventional fossil fuel based energy.
Graanul Invest is continuously developing productivity and searching for new partners and clients all around the world.